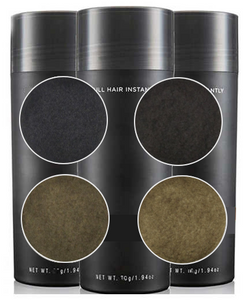 TOP Hair Loss Fibres 27.5g - FAST FREE UK POST!
Regular price £24.99 £9.99 Sale
PLEASE NOTE: WE'RE CURRENTLY OUT OF TOPPIK - MEDIUM BROWN.
IF YOU REQUIRE MEDIUM BROWN WE RECOMMEND PURCHASING YGH - MEDIUM BROWN AS FIBRES ARE IDENTICAL.  CLICK HERE
HAIR BUILDING THICKENING FIBRES 27.5g
Hair Building Fibers are ideal for anyone who wants to disguise the challenge of thinning hair. These keratin-derived fibers are safe, natural and blend undetectably with your existing hair to create the appearance of naturally thicker, fuller hair.
HOW IT WORKS:
Derived from a natural wool source, the premium Keratin used to create these Hair Fibres is almost identical to human hair and allows the Fibres to blend naturally and undetectably. They have a strong natural static charge that creates a magnetic effect, tightly binding the Fibres to even the finest strands of human hair. This bond keeps the Hair Fibres in place throughout the day, even through rain, wind and perspiration. They will stay in place until you next shampoo your hair.
AVAILABLE COLOURS:    
BLACK
DARK BROWN
MEDIUM BROWN
LIGHT BROWN

DIRECTIONS:
Shake the Fibers liberally into your thinning areas. For best results, apply to clean freshly dried hair. Pat hair gently after application to settle fibres in place.